Our Process
Cider Making
We take an authentic approach to all of our ciders – tree-ripened, fresh pressed, and all natural.
Our ciders are handcrafted from traditional cider apples from our old growth orchard, and finished with delicate dessert apples, for the sought after balance between tannin, acidity, and sweetness.
Our Apples
Our great-grandfather George Washington Ward, began a rich tradition, that inspires us today, by planting cider specific apples from Europe on our families estate in the early 1920's.
Our ciders are crafted with a blend of Bramley, Jersey Chisel, Bulmers Norman, Porters Perfection, Lord Lambourne, Belle de Boskoop, and a touch of Cox's Orange Pippin.
Our Cider Making
All great cider starts in the orchard. At Wards Hard Cider, we truly believe that in order to craft the best cider, you have to use the best apples – you could say, it's at the core of our process. All of Wards cider is a reflection of family passion, passed down through generations, combined with the science and art of cider making.
1. Naturally Grown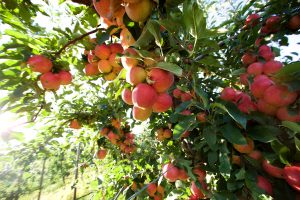 Our cider is made from a blend of traditional cider apples and old growth apples that we've been growing for almost 100 years on our family orchard.
2. Hand Harvested
When the apples are fully ripe, our team sets out and hand-picks all of our apples – ensuring that any apple that hasn't grown to our standards, does not make it into the blend. In short, only the finest apples go into our cider!
3. Milled and Pressed Fresh
After harvesting, we wash all our apples and put them through a mill to create what is known as "pulp". We then take this pulp and gently run it through our beltpress to extract as much fresh apple juice as possible.
4. Fermented with Champagne Yeast
Now, we can add our carefully selected yeast to the juice and let it convert the sugars into alcohol. This is a very delicate process and we monitor it many times a day, from start-to-finish. The type of yeast, and the fermentation temperature and time, all play a key role in the final outcome of the cider we produce.